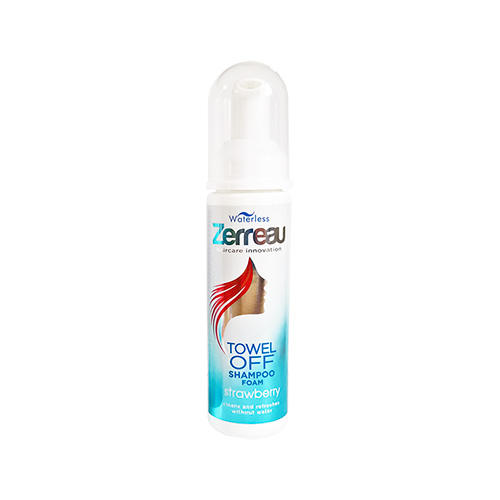 ZERREAU® TOWEL OFF® SHAMPOO 70ML * NEW DRY SHAMPOO*
£0.00 inc. VAT
£6.70 inc. VAT
---
Product Details
ZERREAU® TOWEL OFF® Shampoo is a brand new concept in hair washing, allowing you to wash your hair properly but with absolutely no water required. It really cleans effectively, even removing product such as hairspray, wax or gels. Leaving you with soft clean lushious locks! Zerreau is NOT a leave in product and its NOT a dry shampoo either!
Benefits
Wash your hair effectively without water. Ideal for busy lifestyles, meetings, impromptu dates, gyms, and festivals and camping so you can wake up a bit later and look glamorous and clean !
* Soft clean hair anywhere, on the bus, in a tent, at the office
* No water required, removes dirt, odours & product - effectively
* Delightful delicate aroma In - Strawberry, Apple and Cocunut fragrances
* Kind and gentle, designed for long term use(no alcohol or parabens)
* Easy to use (foaming, no drips or mess)
* Quality product that's safe to use (UK manufactured, complies with European Cosmetics Directive). Cruelty Free Dry Shampoo
* Vegan friendly, not tested on animals
* Paraben free
* Alcohol free
* Triclosan free
Product Uses
For thick or long hair complete process in sections. Zerreau works by applying a wet foam directly to the roots, massaging to release dirt, grease and any product into the foam, then removing whilst still wet and soapy - by thoroughly towel drying!
Recyclable
All packing recyclable. Please check with your local authority for local recycling.
Warnings or Restrictions
Avoid eye contact, rinse with water if contact occurs. For sensitive skin, test before use and discontinue if irritation occurs.
Write your own review
The item has been added to your basket